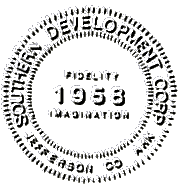 Board of Directors
¯¯¯¯¯¯¯¯¯¯¯¯¯¯¯¯¯¯
James Michael Hood, President
Bettye Howsen, Vice President
Avis Hood, Secretary-Treasurer
Corporate Office
104 Main Street #B
Pine Bluff, Arkansas 71601
(870)534-6020
In 1989 SDC became Arkansas' No.1 Authorized Notary Bond Service corporation when the State of Arkansas authorized it to issue Notary Bonds in accordance with the Act No. 304 of the 1989 Arkansas General Assembly. There are about 47,000 active Notaries Public in Arkansas. For over 24 years it has been a commitment of SDC to provide the Surety Bond required in order for a person to become a Notary Public at a competitive price through local Independent Agents.


—————————————

Incorporated in 1958, its primarry purpose was land subdivision and development. Sometimes carrying the morgtgage on property sold, company assets were often in the form of credit. SDC has never owed any debt and usually pays annual dividends.
The word "Demesne" is derived from an old Scandinavian word (pronounced kind of like "domain") meaning a district, territory or realm. It is also a legal term having to do with possession and use of one's own land.

Some of SDC's undeveloped land is now available for lease. SDC will improve and build on the land for a qualified tenant.